Welcome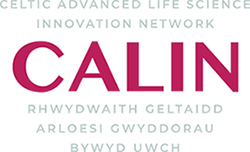 The Celtic Advanced Life Science Innovation Network (CALIN) connects business, academia and healthcare with experts from six leading universities across Ireland and Wales. It offers enterprises the opportunity to engage with leaders in health and wellbeing, advanced medical and pharmaceutical science, nanotechnology and biotechnology. The network provides access to technology, scientific expertise, and a network of life science innovators to support the development of products, processes and services.
Bangor University leads on the health and wellbeing theme for CALIN and looks to support small to medium enterprises (SMEs) working in the life sciences or health and wellbeing fields.
The six university partners are Swansea University, Cardiff University, Bangor University, University College Dublin, National University of Ireland, Galway and Tyndall National Institute.
The Celtic Advanced Life Science Innovation Network (CALIN) is an Ireland-Wales INTERREG operation funded by the European Regional Development Fund through the Welsh Government.
Visit the CALIN website to learn more about the work of the project and the other university partners.
Intro to CALIN
Watch CALIN PI John Parkinson introducing CALIN at Bangor and explaining how SMEs can benefit from working with us.